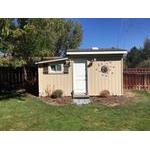 Album: Utahopia Observatory
Images of my observatory in Kaysville, Utah.
Date: 12/3/2018
Owner: Randal Healey
Size: 15 items
Views: 14255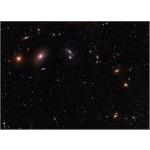 M48 RGB copy Final
Markarian's Chain is a stretch of galaxies that forms part of the Virgo Cluster. When viewed from Earth, the galaxies lie along a smoothly curved line. Charles Messier first discovered two of the galaxies, M84 and M86, in 1781. The other galaxies seen in
Date: 4/23/2018
Views: 8752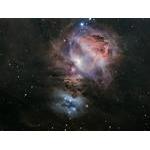 M42 Orion Final 3
M42 The Orion Nebula (also known as Messier 42, M42, or NGC 1976) is a diffuse nebula situated in the Milky Way, being south of Orion's Belt in the constellation of Orion. It is one of the brightest nebulae, and is visible to the naked eye in the night sk
Date: 12/20/2017
Views: 5761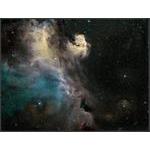 IC2177 80x300 Final
IC2177

This cosmic cloud is one of many sites of star formation within the Milky Way galaxy. It is located 3,800 light-years away from Earth, inside the Orion spur -- the same partial spiral arm of the Milky Way where our solar system is...
Date: 1/18/2018
Views: 6102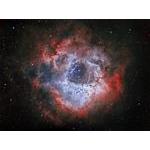 Rosette HOS LRGB Final 5
The Rosette Nebula (also known as Caldwell 49) is a large spherical H II region (circular in appearance) located near one end of a giant molecular cloud in the Monoceros region of the Milky Way Galaxy. The open cluster NGC 2244 (Caldwell 50) is closely as
Date: 12/21/2017
Views: 8228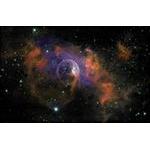 NGC7635 - LRGB Publish Final Image 2
NGC 7635 - The Bubble Nebula

The Bubble Nebula is 7 light-years across – about one-and-a-half times the distance from our sun to its nearest stellar neighbor, Alpha Centauri – and resides 7,100 light-years from Earth in the constellation...
Date: 9/18/2017
Views: 7908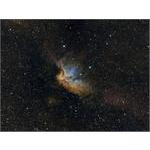 NGC7380 Wizard Final 2
NGC 7380 (also known as the Wizard Nebula) is an open cluster discovered by Caroline Herschel in 1787. William Herschel included his sister's discovery in his catalog, and labelled it H VIII.77. It is also known as 142 in the 1959 Sharpless catalog (Sh2-1
Date: 7/29/2018
Views: 8134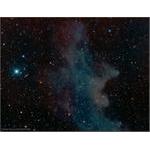 WitchHead PI Final Final
IC 2118 (also known as Witch Head Nebula due to its shape) is an extremely faint reflection nebula believed to be an ancient supernova remnant or gas cloud illuminated by nearby supergiant star Rigel in Orion. It lies in the Eridanus constellation, about
Date: 11/4/2018
Views: 6265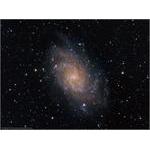 TriangulumNBRGBCombination_DBE Final
Triangulum Galaxy – Messier 33

The Triangulum Galaxy is a spiral galaxy approximately 3 million light-years from Earth in the constellation Triangulum. It is catalogued as Messier 33 or NGC 598. The Triangulum Galaxy is the third-largest...
Date: 11/1/2018
Views: 6560