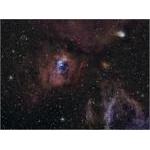 NGC7635 Bubble Final 4
NGC7635 The Bubble Nebula and Region

I imaged this with both my refactor for wide field and my SCT for the core. I was hoping to get more detail and resolution for the core with the SCT. It is a combination of both image scales as well as a...
Date: 8/11/2018
Views: 5714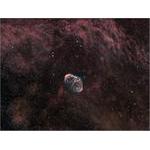 NGC6888 Cresent HOS Final 2
NGC 6888, also known as the Crescent Nebula, is a cosmic bubble about 25 light-years across, blown by winds from its central, bright, massive star. This image uses narrow band image data that isolates light from hydrogen and oxygen atoms in the wind-blown
Date: 6/21/2018
Views: 5575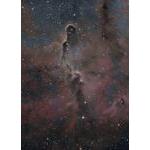 IC1396 Elephant T Final 11 (Close Field)
IC1396 Elephanr Trunk Nebula.

This was a challenge combining the Narrow band and LRGB data to get the result I wanted. I liked the final product given it was taken with an 80mm APO Triplet. Hope you enjoy and I always welcome constructive...
Date: 8/17/2018
Views: 12029