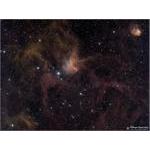 IC417 The Spider and the Fly
The Spider and The Fly Nebula

IC 417 (also known as Sh2-234) is an emission nebula of almost 100 light-years across. It is located some 10,000 light-years away from Earth in the constellation of Auriga (the Charioteer). It is often referred...
Date: 12/3/2018
Views: 1123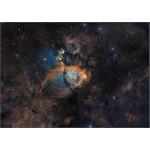 NGC896 HOS-Final PI Final 6
NGC 896 in Cassiopeia

It is the brightest section of the much larger Heart Nebula, IC 1805. The first region of the Heart to be discovered, NGC 896 is rich in star birth, as evidenced by the pinkish Hydrogen alpha gases, and dark dust...
Date: 11/8/2018
Views: 953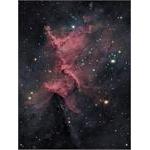 Mel15 Final 5
Melotte-15, Heart of the Heart

Melotte-15 is the star cluster at the heart of the Heart Nebula. It is an OB association of very young hot blue supergiant stars that is only 1.5 million years old. Fierce stellar winds from this cluster have ...
Date: 9/1/2018
Views: 1016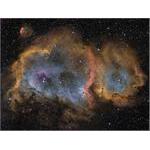 SH2-199 Final copy 2
SH2-199 or the Soul Nebula is an emission nebula located in the constellation Cassiopeia. Several small open clusters are embedded in the nebula: CR 34, 632, and 634 (in the head) and IC 1848 (in the body). The object is more commonly called by the cluste
Date: 7/6/2018
Views: 842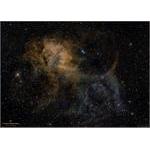 SH2_132_HSO_copy_PI_Final_DBE 4
SH2-132 (otherwise known as The Lion Nebula) Is a large emission nebula located between the border of the Cepheus and Lacerta constellations.
If you've never heard of it before, as most haven't, don't feel too bad. SH2-132 might be large, but...
Date: 11/6/2018
Views: 998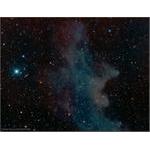 WitchHead PI Final Final
IC 2118 (also known as Witch Head Nebula due to its shape) is an extremely faint reflection nebula believed to be an ancient supernova remnant or gas cloud illuminated by nearby supergiant star Rigel in Orion. It lies in the Eridanus constellation, about
Date: 11/4/2018
Views: 1063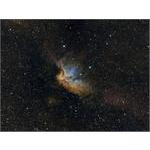 NGC7380 Wizard Final 2
NGC 7380 (also known as the Wizard Nebula) is an open cluster discovered by Caroline Herschel in 1787. William Herschel included his sister's discovery in his catalog, and labelled it H VIII.77. It is also known as 142 in the 1959 Sharpless catalog (Sh2-1
Date: 7/29/2018
Views: 1163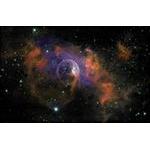 NGC7635 - LRGB Publish Final Image 2
NGC 7635 - The Bubble Nebula

The Bubble Nebula is 7 light-years across – about one-and-a-half times the distance from our sun to its nearest stellar neighbor, Alpha Centauri – and resides 7,100 light-years from Earth in the constellation...
Date: 9/18/2017
Views: 1043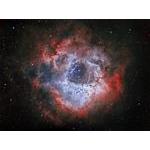 Rosette HOS LRGB Final 5
The Rosette Nebula (also known as Caldwell 49) is a large spherical H II region (circular in appearance) located near one end of a giant molecular cloud in the Monoceros region of the Milky Way Galaxy. The open cluster NGC 2244 (Caldwell 50) is closely as
Date: 12/21/2017
Views: 1000