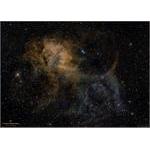 SH2_132_HSO_copy_PI_Final_DBE 4
SH2-132 (otherwise known as The Lion Nebula) Is a large emission nebula located between the border of the Cepheus and Lacerta constellations.
If you've never heard of it before, as most haven't, don't feel too bad. SH2-132 might be large, but...
Date: 11/6/2018
Views: 5957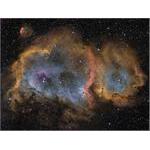 SH2-199 Final copy 2
SH2-199 or the Soul Nebula is an emission nebula located in the constellation Cassiopeia. Several small open clusters are embedded in the nebula: CR 34, 632, and 634 (in the head) and IC 1848 (in the body). The object is more commonly called by the cluste
Date: 7/6/2018
Views: 5088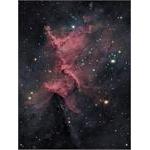 Mel15 Final 5
Melotte-15, Heart of the Heart

Melotte-15 is the star cluster at the heart of the Heart Nebula. It is an OB association of very young hot blue supergiant stars that is only 1.5 million years old. Fierce stellar winds from this cluster have ...
Date: 9/1/2018
Views: 4870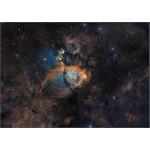 NGC896 HOS-Final PI Final 6
NGC 896 in Cassiopeia

It is the brightest section of the much larger Heart Nebula, IC 1805. The first region of the Heart to be discovered, NGC 896 is rich in star birth, as evidenced by the pinkish Hydrogen alpha gases, and dark dust...
Date: 11/8/2018
Views: 5057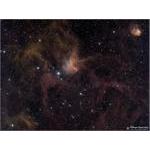 IC417 The Spider and the Fly
The Spider and The Fly Nebula

IC 417 (also known as Sh2-234) is an emission nebula of almost 100 light-years across. It is located some 10,000 light-years away from Earth in the constellation of Auriga (the Charioteer). It is often referred...
Date: 12/3/2018
Views: 5733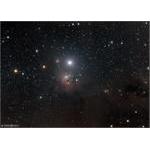 IC348 and Star
IC348 is a star forming region just south of the bright mag 3.8 star o-Per at the bottom end of the constellation of Perseus. Actually, IC348 refers to a young, open cluster that is ~990 light years distant and that is responsible for the reflection nebul
Date: 12/3/2018
Views: 6019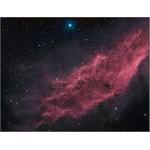 NGC1499 Cailf Final 3
Shown in HA-OII, LRGB but OII added almost Nothing.

The California Nebula (NGC 1499) is an emission nebula located in the constellation Perseus. It is so named because it appears to resemble the outline of the US State of California on long...
Date: 9/8/2018
Views: 5888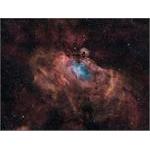 M16 The Eagle Nebula Final-Recovered 3
M16 The Eagle Nebula in blended HOS and SHO.
The Eagle Nebula is part of a diffuse emission nebula, or H II region, which is catalogued as IC 4703. This region of active current star formation is about 7000 light-years distant. A spire of gas that...
Date: 7/10/2018
Views: 6504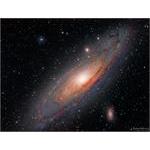 Andromeda
M31 The Andromeda Galaxy

I haven't done much by way of galaxy imaging so I thought I would give it a go with our closest neighbor. HA, LUM, RGB.

The Andromeda Galaxy, also known as Messier 31, M31, or NGC 224, is a spiral...
Date: 12/3/2018
Views: 5355